Medical Warriors – The Doctors and the Nurses, Covid 19
It was acclaimed by everyone that being health personnel was a job of higher risk, but its level would suddenly be skyrocketed to this extent was beyond anyone's imagination.
On December 31 last year, China alerted WHO to several cases of unusual pneumonia in Wuhan, a port city of 11 million people in the central Hubei province. The virus was unknown. As a result, it was a Coronavirus(covid 19) that crop up due to bad eating habits of Chinese citizens. The news of morbidity and mortality due to Coronavirus spread in China was flashed out but it was confined only in China previously.
It was self-evident that it was heartbreaking news as many Chinese citizens we fighting against death. However, many people lost with it and some of them got the victory as well. Unfortunately, the spread of the virus is pandemic now. Along with China, a huge number of people from many other countries are being sufferers day-by-day.
The government of every country is taking some steps to get rid of this current problem and to protect its citizens by ordering them to be in Quarantine and some of the countries are locked down. In the same way, my country Nepal is locked down as well. Even though all the citizens are requested to stay at home, there are some people who are unable to obey it due to their profession like police, medical persons, etc. I too belong to the same medical professional who is not allowed to stay at home.
I am a nurse who works in an emergency department. An emergency is a place where patients with divergent health problems arrive. When the patient visits an emergency, he\she is not diagnosed initially and the health care management team is unaware regarding their present health problem. However, we (the doctors and the nurses) need to take care of the patient by examining them, performing various medical procedures and administering medications regardless of the patient's status.
Only after furnishing the initial management, the patient is diagnosed. Hence, we are the front liners who faces and deals with all kind of patients. It is veracious that we are at peak risk of being transmitted through this Pandemic.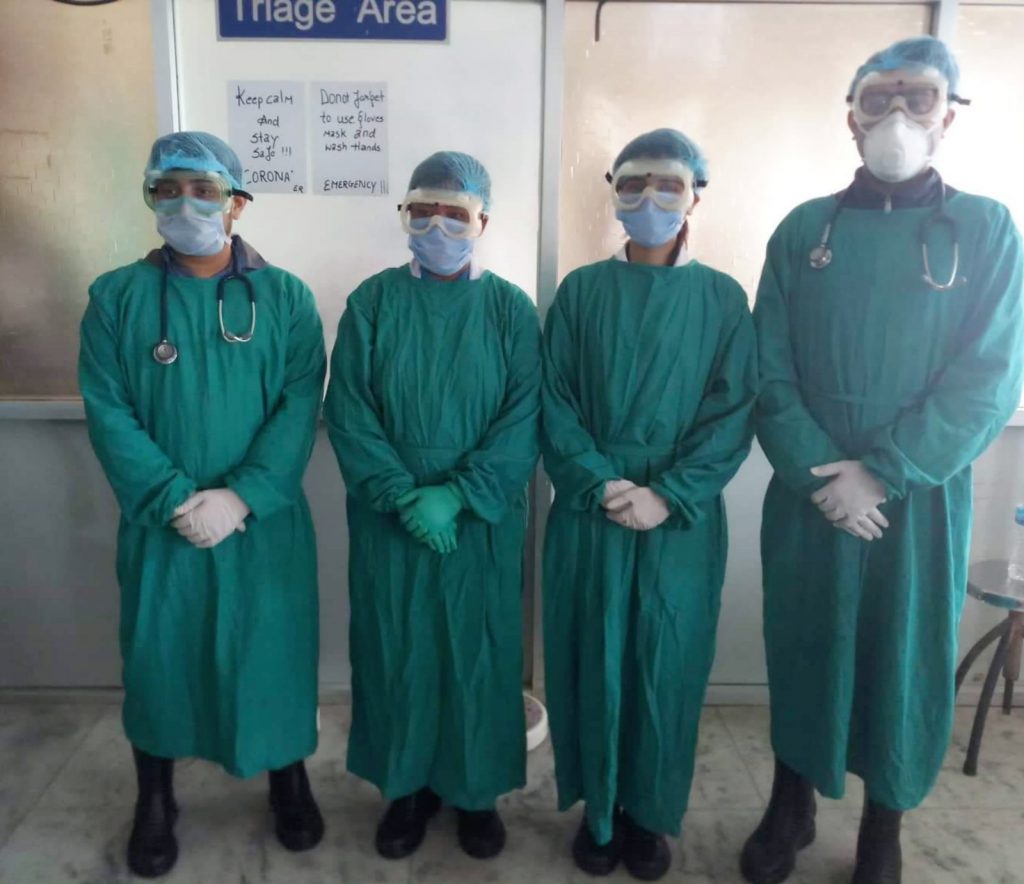 Dedicated to all the medical personnel
The psychological stress that we go through is beyond imagination. All the other citizens are requested to stay inside the home but at the same point we are unable to do it, we go to our work every day.
Every morning we come out of our house taking the greatest risk of being infected, but we move anyways. We walk with crossed fingers, hoping to stay safe, but also keeping that in mind that, it might be our last day being uninfected and staying healthy. However, we proceed.
It is obvious that our heartbeats so rapidly that can be heard outside and our hands get trembled before holding the hand of any patient. Although some worst nightmares pass through our minds while caring for the patient, we take care of them sharing a warm smile. We hold their hand and ensure them that they will be fine very soon who (health-care provider )are unsure about themselves.
Yes, we feel the fear of being infected because we do have a family and after getting tired from work we go to our home where our family members live in. We become panic because if we get caught by this killer pandemic, we might spread it to our family members. We get anxious thinking that we might be the reason behind its transmission to our loved ones and it shouldn't be stated that it is the worst feeling ever. Imagining it thrills us from top to bottom. However, we do our work.
We are the nation's pride and brave soldiers. Our chest gets broad realizing our worth, actualizing it that we are the ones required to save the nation, we are the warriors hardly trying to fight against this killer pandemic and protect our people.
We are so fortunate humans that are able to help their nation to save their citizens where all others are requested to stay in the home but we are licensed to stay at work to save the country which is going through such a challenging situation. We are proud of ourselves as we belong to the most respectable profession in the entire world.
All the medical persons are working hard in such a harsh situation without caring about their own health and their family members. It shouldn't be mistaken that incentives are important rather than life but they play some positive role in motivating them, Along with that, the government should provide them with proper PPE (Personal Protective Equipments) for their safety as they are working taking a higher risk of their life.
Furthermore, it would be much better if each health organizations provide the proper facility of staying in their health organization until and unless this pandemic subsides so that our family members won't be at risk and will have less probability of being contaminated through us. As medical persons are working hard to save the nation, the Nation must also do some effort to save them.